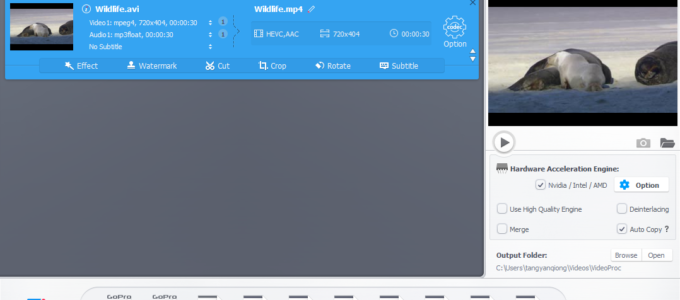 Why Choose VideoProc to Edit and Process GoPro 4K / Large Videos
With the 21st century coming along with its own set of trends and changes, especially in the past few years, each trend seems to have something in common.
Think about Instagram stories, website marketing, Facebook ads, blogging and upheaval of the tourism industry, it all comes down to one thing. One video to post, one video to cherish, one video to share and one video to reminiscence.
However, these days, a video shot during your trip or as a part of your marketing campaign almost always requires an editing job. It helps with the thirst for perfection and to match the overall standards of videography in the world. I mean, if you have the option to make something better for yourself or for the world to see, why not grab the opportunity?
When it comes to video editing, most vides you'll be shooting would be 4K or GoPro ones. Now, when it comes to that, to edit 4K videos is a tough task. In fact, to edit GoPro videos or any high-quality videos that you have, in the right way, can be difficult to achieve.
If you have experienced such problems, especially after GoPro studio, the most stable and smooth software for video editing got discontinued, this is the right place to be at. If you haven't, you may be wondering, why so?
Even if you try for hours, most applications do not support large GoPro HEVC videos or 4K videos.
In cases where you find applications being able to load high sized videos, there are numerous lags or computer freezes during the editing and exporting process that hinders proper work.
Talking about exporting, most applications will be unable to match your export quality and format desires or give incompatible files for any use or upload. This mostly happens when you use any 4K video editor that lacks input codes and output format variety.
All these problems, issues and roadblocks should not stop you from successfully editing as and when you need to. The solution? VideoProc.
Yes, VideoProc is an easy, stable and lightweight software that provides a quick and clear option to edit your videos. Not only does it act as the next best alternative to GoPro studio, it also provides you with compatibility for both Windows and Mac. Use it whenever you want, however you want, wherever you want and for whatever you want.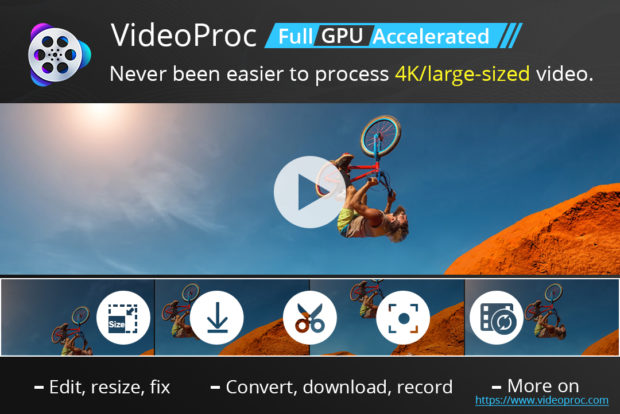 Especially if you are a beginner or a non-professional, here are the reasons why you should be using VideoProc.
Full GPU acceleration smoothes video processing.

The VideoProc website is the home for everything that you can imagine in one place. For starters, it provides you with full GPU acceleration using Intel QSV, NVIDA, AMD which avoid the main problem of video freezes and computer crashes when editing 4K video. Not only does this have a 47x processing speed boost but also cuts down on CPU usage, all at once. Once you don't have freezes, the real fun of editing begins.

Cover-all video editing features with simple steps.

VideoProc gives you all features like cut, trim, merge, resize, rotate, flip, add effect subtitle, enhance any videos, Gif etc. Oh, the fun doesn't end there. Additional features like de-shake, denoise, correct lens distortion, A/V sync, GOP, speed adjustment is also available to further test your video editing skills. At the end of the day, the best part is the smooth and clear UI of the application. It helps you navigate easily, successfully be an easy replacement to GoPro studio Mac or PC and calmly edit large videos.

Support all 4K, HEVC and HD videos.

VideoProc with 370+ input codes work easily with any videos that you have, processes them at high speed and provides prime functionality. It accepts videos in possibly all formats like MP4, HEVC, MOV and qualities like 4K, 1080p or 720p.

If desired, it also allows you to record your desktop/ iOS screens and also functions with green screen usage. As an application, VideoProc doesn't miss out on anything, right from the moment you start using it.

Useful video conversion.

Video editing is always done with a motive in mind. You either post on social media, have some professional work or want a good memory for keep sake. Once you have edited a video, the motive is not achieved. You need to export the video as per your purpose in the right format and quality. With 420+ output formats on VideoProc and multiple conversion options, it is never a problem. You can convert 3D to 2D videos, change 4K to 1080p or vice versa.

Moreover, if needed, you can even download files in batches or have a playlist directly downloaded.
To top it all up, don't forget that they have a current giveaway going on where you can win a free licensed version of the application!