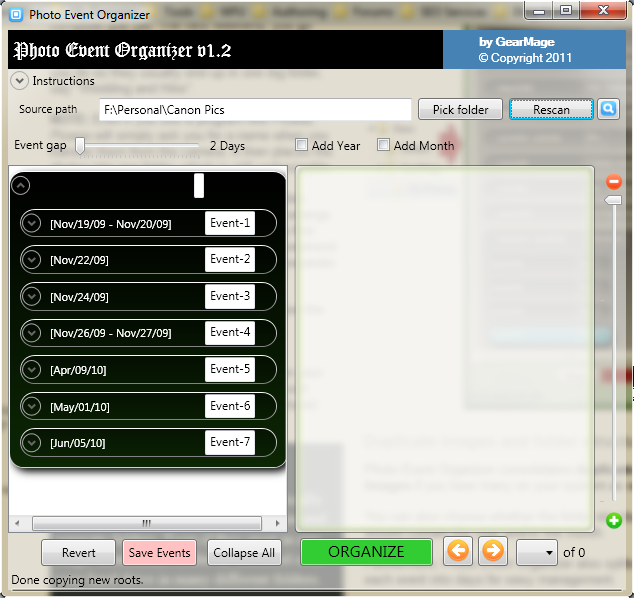 Photo Event Organizer – Organize Photos From Your Camera In Events
If you take many digital photos then Photo Event Organizer can be really beneficial for you.
If you have a camera, which I think most of the people have nowadays, the photos are stored in the memory of camera.
The photos taken from the camera have one problem that the file name is a sequence of letters and numbers which increments with every new photo.
It is a huge task to organize these photos especially when there are thousands of photos taken from the camera.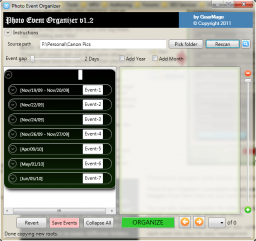 Photo Event Organizer – Organizing Events in Your Life
Photo Event Organizer is a free software for Windows which can do the task of organizing these photos in an interesting way.
It can scan the photos in the specified folder and break them into events. The default even gap is two days which can be customized in the options.
This means that if you have taken photos yesterday and today, Photo Event Organizer will automatically make an album of these two days and you can easily name this album whatever you like.
Automation Organize Photos With Photo Event Organizer
This is very useful as we usually take sequential photos and like to see the set of photos for a particular event.
Photo Event Organizer is very easy to use. Unlike other photo organizing software like Google Picasa, Photo Event Organizer does not take any input from the user except for the first time when it asks for a photo folder to be scanned.
After that it will automatically scan the whole hard drive and sort photos into organized events.
When you start Photo Event Organizer, it will ask you for the folder you want to scan. Just browse to your desired folder and press the scan button.
It will scan the folder and will give you the list of events that it has identified in the left hand pane.
You can expand the contents of each even and they will be shown in the right hand pane. You can rename each event to your liking and save all the events.
That's all you have a beautiful eventful organization of your photos.