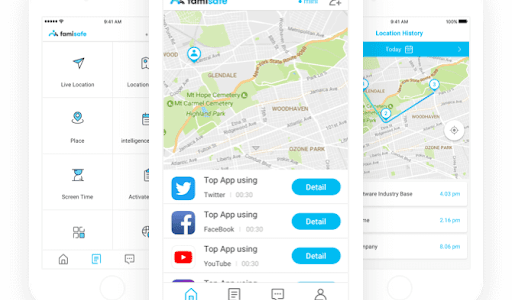 FamiSafe: Parental Control app
The mobile device in today's world are common and the need of every individual. Mobile devices are no longer just communication devices they are a smartphone that connects you to the internet and gives you access to multiple things. A mobile in the child's hand can be used in multiple ways both good and bad. But you can never tell by just looking and lurking around the phone because children are smart and they can hide a lot of things.
The developers at WonderShare understand the parent's concern; hence they have developed an app called FamiSafe which will help parents keep parental control on their child.
Here is a bit of information about the app .
How does the FamiSafe app work?
The app has to be downloaded on every device you want to monitor along with the device you want to monitor with. Once they are downloaded you simply have to make IDs on every phone and give permission to the app on your child's phone which will then be controllable by the parent's app.
The app is user-friendly but has a few more settings which the app guides you throughout. Also making modifications is easy according to your needs.
Pricing
The app allows you to test the features for three days after which you have to subscribe to one of their plans.
Here are the payment plans that they offer:
Monthly subscription plan
If you opt for their monthly plan it cost only $9.99 and you can avail all their features.
Quarterly subscription plan
If you opt for their quarterly plan it would cost you only $19.99 which broken down into months cost only $6.66 per month.
Yearly subscription plan
If you opt for their yearly plan it would cost you $59.99 which when broken down into months cost only $4.99 per month.
Features of the app
The app off you a multitude of features which can help you do parental controls on your child's smartphone also it will allow you to be at peace while your child makes good use of the phone you just handed them.
Track real-time location
It will help you keep an eye on your child every moment of the day and especially helpful when they're out of the house.
Block apps
It will help you block apps that are suspicious and seem harmful to you for your child.
Monitor app usage
Children can get addicted to application and over suing them which can lead to harm to their physical and mental health. FamiSafe helps you monitor those applications and ensure that your child doesn't overuse applications.
Screen time report
Now once you hand the child the mobile you want to ensure that they are not using it during their study time and at school. Hence FamiSafe gives you a screen time report which will help you ensure that they are not using the phone all the time.
Set screen time limit
Children often use their phones throughout the night and you won't always be able to catch them. FamiSafe helps you with that, on your required time you can set screen time. So you will be assured that they are only using phones when they need them and not all the time.
Hence these were some of their most amazing features which will help you do parental control on the phone.
Good news
Now you can avail a 20% discount if you use the coupon code 'SENFSOFF'.
Work out to a whole new level with these knee pads.