A few years ago my cloud backup provider changed their pricing plans. The change made backing up my data with them very expensive. I also knew that I would be having much more data that needed to be backed up each year, so the price would continue to rise. Fortunately, then I had about one and a half years left in my current plan with that provider, so I had time to review other cloud backup providers before I had to change.
During that time I looked at many different providers and many had pricing packages that had limits to the amount of data I could store. Of course, the larger the storage space and more money it would cost. I looked at two services – Backblaze and Carbonite. Each provided unlimited storage for a flat, affordable, rate per month. Just what I was looking for to back up my data. In the end I went with Backblaze, and my reasons are outlined below.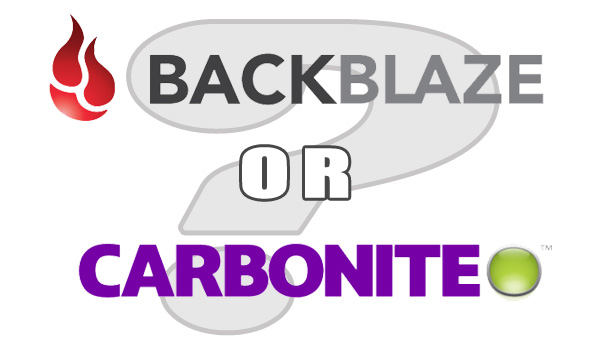 BackBlaze or Carbonite: Taking a Chance on Backblaze
Before I began researching alternatives for backing up my data to a new cloud service I hadn't heard about Backblaze – at all. Carbonite was the biggest player in the unlimited-backup-storage-for-flat-rate-per-month space, so I was more leaning towards going with them.
I had research Carbonite in the past for backing up my data, but I went with their competitor then. There were a few issues with Carbonite that wouldn't work for me at the time, and that hadn't changed when I needed to switch cloud backup providers.
I can't remember how I heard about Backblaze. It could have been from a website that had online backup reviews, but not wanting to leave any stone unturned about backup providers, I looked into what they had to offer.
While reading what they offered, I liked what I read. The one thing that I was cautious about, however, was that they were a small company and I didn't really know if they would be around long. The last thing I wanted was to back up my 300-400 GB, at the time, of data and then lose my backup and have to start all over again.
Let's face it, backing up that much data with a bandwidth cap does take several months to back up.
In the end, I decided to take my chances with Backblaze, and it has been several years since I took that chance. I haven't had any issues with their service, but in the end, I had to make the tough choice of going with them.
The reasons I chose Backblaze over Carbonite are listed below.
My Reasons of Choosing Backblaze
After reviewing many cloud-based backup solutions I decided between Backblaze and Carbonite. Before continuing here are the plans for both Backblaze and Carbonite:
Backblaze Plan
| Plan | Cost |
| --- | --- |
| Monthly | $5/month |
| Yearly | $50/year ($4.17/month) |
| Bi-yearly | $95/year ($3.96/month) |
Carbonite Plans
| Plan | Cost |
| --- | --- |
| Basic | $59.99/year ($5/month) |
| Plus | $99.99/year ($8.33/month) |
| Prime | $149.99/year ($12.50/month) |
In the end I chose to go with Backblaze for a number of reasons, as I outline below.
More Affordable
With Backblaze I opted for the two-year plan, as I figured I would like the longer terms considering how long it would take me to upload my data – about six months. The reason it took so long wasn't because of Backblaze, but the bandwidth cap from my ISP. I couldn't upload all my data at one time without paying the overage charges.
For what I needed to have with my plan, I would have needed to go with the Prime plan from Carbonite. Compared with the discounted 2 year plan from Backblaze, I was looking at more than 3x the cost for similar service from Backblaze.
To be honest, I didn't look into whether Carbonite offered discounted prices for their packages, such as paying less for a 2-year subscription.
External Hard Drive Backup
All the data that I need to back up is stored on an external hard drive. I don't backup up anything from my local hard drive – I usually copy data from my external hard drive when I want to change a file.
With Carbonite, I would have to go with the Personal Plus plan. Backblaze can easily backup data from any USB or Firewire-connected external hard drive without paying for a more expensive plan.
Automatic Video Backup
If you are like me and have many home video files of your children, it makes sense to want to back those files up. The point of a backup is to be able to automatically backup files in a specified directory or drive. With Backblaze all videos files are selected for backup. With Carbonite, you would need to subscribe to the Prime plan for automatic video backup. Otherwise, you will need to add each video to your backup manually to have those files backed up.
More Recovery Options
A backup provider is only as good as the recovery service it provides. If you can't restore your data easily, then the backup provider is no good. Both Backblaze and Carbonite give the ability to restore files through the Internet – whether it is some or all files.
Unfortunately, if I needed to recover all my files, doing it over the Internet is not possible. With my 500 GB of files, and my 125 GB cap bandwidth limit from my ISP, it would take several months to restore all my files. Luckily, a solution is provided by Backblaze.
Backblaze allows you to restore large amount of data by sending you a USB Flash Drive (128 GB for $99) or a hard drive (3 TB for $189). Carbonite does offer a similar solution. They have a courier service for $9.99 but you need to have subscribed to their Prime plan.
Mac and Windows Support
While I am strictly a PC guy, Backblaze supports both Mac and Windows. Carbonite supports both operating systems as well, but only with their Basic plan. Both the Plus and Prime support Windows only. I'm not really sure why Mac computers aren't supported with the more expensive packages, but according to the Carbonite website that is the case.
I added this point because it may be needed in the future, and it shows the company is dedicated to supporting more than just Windows computers.
Backblaze and Carbonite Comparison
Backblaze
Carbonite
Basic
Carbonite
Plus
Carbonite
Prime
Price
$5/month,
1 year – $50/year ($4.17/month),
2 year – $95/year ($3.96/month)
$59.99/year ($5/month)
$99.99/year ($8.33/month)
$149.99/year ($12.50/month)
Storage
Unlimited
Unlimited
Unlimited
Unlimited
OS Support
Windows,
Mac
Windows,
Mac
Windows
Windows
External Hard Drive Backup
Yes
No
Yes
Yes
Restore Options
Online,
USB Flash Drive ($99),
Hard Drive ($189)
Online
Online
Online,
Courier ($9.99)
Mobile App
iOS,
Android
iOS,
Android
iOS,
Android
iOS,
Android
Video Backup
Automatic
Manual
Manual
Automatic
The above list explains the reasons I chose Backblaze over Carbonite for my data backup. Carbonite is a good, well-known backup service, but for my backup needs, Backblaze was a better fit. They provided all the necessary options for backing up and restoring my data. I have been with them for several years now, and haven't had any issues with their service.
When it comes to backing up data, you need to have a backup process that works for you. With cloud backup, you need to weigh all your options to decide which cloud backup provider works best for you. For me, it was Backblaze.