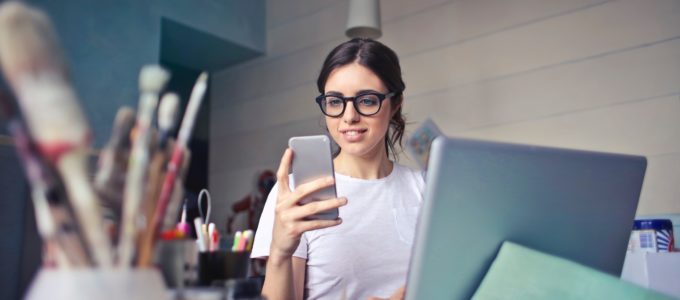 5 Tips for Running a Business from Your Smartphone
The smartphone in your pocket makes it possible to run your business from pretty much anywhere. Modern phone technology puts a world of technology in your hands, and it gives you access to software programs, information, and workers to quickly accomplish anything.
Add to the lightning-fast ability of your mobile technology with a connection through a carrier with a reputation for delivering fast service. For example, T-Mobile was recently listed by OpenSignal as being the fastest network available, beating out both AT&T and Verizon.
1. Choose from the four main business models
When you're getting started, choosing the right business model is right at the top of your to-do list. You want to choose a model you can successfully manage from a smartphone like your iPhone 7 on a 4G LTE network like T-Mobile.
There are four main models to choose from as noted by Duct Tape Marketing. The types are aggregation, brokering, manufacturing, and reselling. Each mode of business has the potential to be successfully run from a mobile device, though one that requires a lot of detailed documentation may lend itself more effectively to legacy programs in a traditional PC.
2. Ease of managing company communications
It's hard to top a smartphone when it comes to managing the lines of communication within a business. The device lets you instantly reach your contact list, plus provides access to traditional calling, text messaging, email, and even your social media accounts.
This lets you communicate with people within your company, existing customers, and potential customers from anywhere. The flexibility enhances your ability to lead workers, manage issues your customers may have, and introduce potential clients to your product or service.
3. Using your smartphone to market your business
Aspects of marketing that are especially suited to mobile technology include social media marketing, videography, and photographing your products. This takes away the challenges associated with some classic time-intensive marketing strategies.
Using your smartphone to handle these tasks means they are done instantly with the tap of your finger on the screen. This saves you the cost of hiring a large staff to handle these chores.
Cutting costs lets you manage a lean business that's easy to adapt to a changing market, and saving time on marketing tasks frees you up to handle other issues.
4. Take advantage of apps on your device
There are apps available to help you perform almost any task you need to accomplish while running your business. Apps are available for daily management tasks like tracking your income and expenses or even writing up a business plan when you're first getting started.
Project management apps can help you carry a new aspect of your business through each stage, from idea to completion. You can even build an app that's specifically created for your business needs or one that addresses a common issue within your company to add value for your customers and employees.
5. Make use of the calendar on your smartphone
The integrated calendar or a downloaded calendar app is an extremely useful and important function when using your phone for business. It's also an easy thing to overlook if you aren't in the habit of using one.
You may want to consider using it more — since being on time and meeting deadlines are two of the keys to being successful. Plus, it's easy to set notifications on your phone to remind you of times to make important calls or head out to important meetings.
Think of your mobile device as an equalizer. This technology levels the playing field, giving you an opportunity to manage your business on a level that's comparable to that of a larger company.
It opens the door for you to enter the business world even if you don't have access to a traditional computer or a large staff. It's also a great way to get started with the same level of technology a lot of large businesses use without the huge capital investment associated with buying computers, renting or buying buildings, and making other costly investments.