This is a Sponsored post written by me on behalf of Personal Capital for SocialSpark. All opinions are 100% mine.
The economy over the past few years has had many of us stressed out. It is a volatile time to manage your money as well as your investments, so it does help if there was a simple way of keeping an eye on what you have in cash/investment assets. With Personal Capital, you can keep track of your accounts and investments so you know what you have and where it is going.
The good news is that with mobile devices, you can easily track your finances with a single, and free, mobile app from Personal Capital.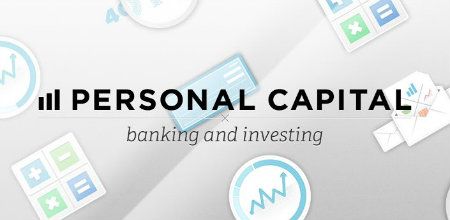 About the Personal Capital
The main goal of Personal Capital is to build a better money management experience for consumers. The one way that Personal Capital is doing this is through their mobile app.
As I mentioned above, the Personal Capital app is 100% free for the iPad, the iPhone, and Android devices. If you have any of these devices, than you should be good to go.
The purpose of the app is to provide a holistic view of your finances, and to help manage your accounts by making informed decisions. The Personal Capital app accomplishes this goal by helping you track your income, spending, savings and your investment performance all within the application.
In addition to helping you manage your finances, the app also helps you to identify where you could possibly be saving money, such as identifying mutual fund fees.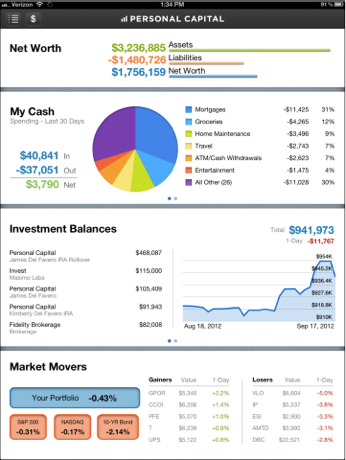 Functions of Personal Capital
Personal Capital includes several interesting and very helpful functions to help you manage your money. These functions include:
Portfolio Performance

The Portfolio Performance feature allows you to track your investments by account, asset class or by individual security. This allows you to know what you own and how the investment is performing. You can also pinpoint market moves and compare your portfolio to the major indices.

Asset Allocation

When it comes to investing, diversification is the key to long-term grow. Asset Allocation will show you the diversification of your portfolio, from international stocks and bonds, to alternatives to cash. Here you can see the exact percentage for each class of asset within your portfolio.

Mobile App opportunities

As I mentioned earlier, there is a mobile app that you can install on many devices that allows you to see your account balances and transactions on the go. Investment performance and market information is available to you wherever you happen to be.

Investment Check Up

Personal Capital financial experts have found a way to pinpoint potential investment risks. They can help identify mutual fund fees and to see if you are on track to reach your financial goals. This function is free, and will only take a few seconds.

401k Free Organizer

Personal Capital can assist with organizing your 401K. They can inform you if you are paying too much in fees, and also benchmark your 401K against their own 0.5% plan to determine how your plan is performing. If there is any issues, they can help you do something about it. Once again, this is a free tool.

Mutual Fund Fee Calculator

There are usually fees associated with mutual funds, and this calculate will show you just how much investment fees could cost you over a specified period of time. By analyzing how much you are paying in fees, this function can help you save money for those mutual funds that have higher fees.

Universal Check Up

The Universal Checkbook allows you to send money to anyone with just a few swipes and taps on your mobile phone. To use this function, you just need to enroll a checking account by taking a picture of a paper check. This allows you to save time by not having to send a check.
For me, being able to managing my spending, and track where my money is going is a huge benefit to using Personal Capital. By analyzing where my money goes, I can start to determine where I can save money by cutting back on certain areas that are necessary.
By using the mobile app provided by Personal Capital you can now take control of your finances. Gone are the days of guessing where your money is going, and how much you have left in your checking account.
You don't have to worry about saving for you future as you can monitor you investments at anytime from anyplace.
If you are serious about taking control of your financial health, I recommend you sign up with Personal Capital and download their app on your iPad, iPhone, or Android device.