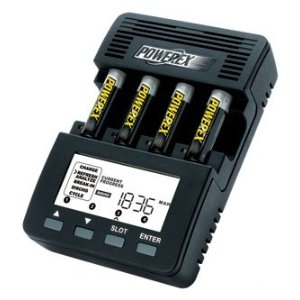 Maha Powerex MH-C9000 Battery Charger Review
A few months ago I purchased the Maha Powerex MH-C9000 battery charger becaue I had just bought some Eneloop rechargeable batteries and wanted a good charger to use with them. I had always just used a charger that came with rechargeable batteries in the past, and they worked fine. However, I wanted a charger that as proven to work well with different batteries, and so I began researching various chargers.
The research led me to purchasing the Maha Powerex MH-C9000 battery charger, and I quickly discovered that it was much more than just a charger. There is quite a bit of intelligence built into this charger, that can really help out when it comes to rechargeable batteries.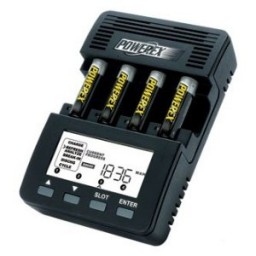 Maha Powerex MH-C9000 Battery Charger – Doing More
The Maha Powerex MH-C9000 battery charger is more than just a simply battery charger, it allows you to analyze, discharge and cycle batteries as well as charge batteries. Each of the additional functions can help not only with new batteries but also older batteries that aren't performing as well as they should be.
The instructions that come with the battery charger are not great. It is a double sided, folded piece of paper that can leave those who haven't used such a charger before confused. After reading it for some time, you will start to become familiar with the charger and the many functions that it performs.
Maha Powerex MH-C9000 Battery Charger Modes
It is important to understand what each of the individual functions does on the charger so you can best select the correct setting for the battery that is in the charger.
Charge Mode: This is the standard mode that is found in battery chargers. The difference here is that you can select the rate at which the battery is recharged.
Refresh & Analyze: If you wish to analyze the current capacity of a NiMH battery, then you should use this mode. This mode will recharge the battery, wait for two hours and then discharges the battery. Another two hour wait and the battery is recharged a second time. The capacity is then reported at the end. This mode is used to rescue under-performing batteries.
Break-in: This mode is recommended for new batteries and batteries that cannot be rescued by the Refresh & Analyze mode. Because of the charging and discharging time used by this mode, it can take 39 to 45 hours to complete.
Discharge: The battery is discharged in this mode. The charger can determine the capacity of the battery by using this mode, however, you will need to recharge the battery once it is discharged.
Cycle: If you wish to charge and discharge a battery a specified number of times, then this mode will allow you to do it. The batter is recharged at the end of the cycle.
Recovering Old Batteries
The one aspect about the Maha Powerex MH-C9000 battery charger that I had read about was its ability to potentially recharge older batteries that don't seem to want to charge anymore.
The instructions that come with the charger do leave something to the imagination, but it does recommend you use the Refresh & Analyze mode from one to three times. If the batteries still aaren't up to a normal capacity, then use the Break-in mode make fix the problem.
I tested this on four old NiMH that I have used for several years, but stopped using them. By using the Refresh & Analyze mode twice, two of the four batteries were restored to their stated capacity. The other two reported very low capacities, even after running the Refresh & Analyze a third time.
I next ran the Break-in mode on the remaining two batteries and noticed that the capacity of either wasn't increasing. At this point I determined that the batteries were at the end of their life.
While I couldn't rescue all four batteries, I did manage to rescue two of the four batteries, which is great since I now have two additional rechargeable batteries I can use.
Maha Powerex MH-C9000 Battery Charger Pros
Able to charge many different AA NiMH batteries.
Five modes to help keep your NiMH batteries performing.
Can recover old batteries that don't recharge anymore.
Read-out is easy to read and large.
Can specify a different mode for each battery inserted into the charger.
Maha Powerex MH-C9000 Battery Charger Cons
Instructions could be better – can be overwhelming at first.
Fairly large so it isn't as portable as other battery chargers.
The read-out display light stays on.
Overall I am really impressed with the charger. I have managed to salvage some older batteries that couldn't be charged by a standard charger and bring them back to life. If you are looking for a great battery charger, I suggest you pick up the Maha Powerex MH-C9000 battery charger.