Every single Garmin Nuvi GPS has its own charm and appeal and this 1490LMT is no different, especially considering how low the price is. Garmin are the world leader when it comes to GPS devices, and it's easy to see why when you look at this new unit. It manages to combines some very powerful features with superb routing accuracy and a sleek modern-looking design that sets it apart from the competition.
The Nuvi 1490LMT is even more compelling as a purchase when you see how easy the user interface is to use. Read the full Garmin Nuvi 1490LMT review below, as well as details on how you can save money with a Garmin Discount Code for 2012.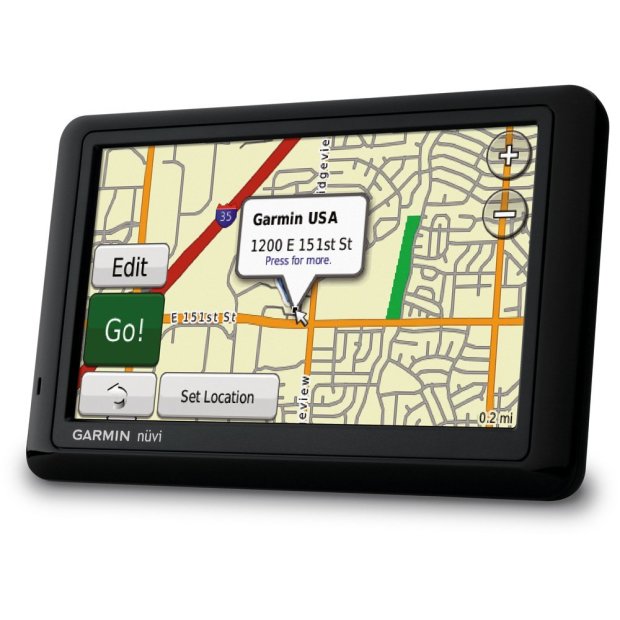 Great Touch Screen with Fine Detail
One of the most appealing aspects to this device is the 5 inch touch screen display. It is large enough to let you see the maps in great detail, plus interact with all the functions using your finger. You can zoom in to see more should you want more detail, but generally a 5 inch display should suit most drivers unless you have a very deep dashboard.
Free Garmin Map Updates 4 Times a Year
In terms of using this Garmin Nuvi there are "Where" and "View Map" buttons which help you easily get started so you can plan your route. If you touch the "View Map" icon then it will display a map on the anti-glare screen. The maps are easy to understand, and you can actually get free Garmin map updates up to four times a year if you buy this device which is a fantastic bonus.
The Garmin Nuvi 1490LMT comes pre-loaded with maps of the United States, Canada and Mexico as well as millions of preloaded points of interest files. If you want different countries or regions then you will need to pay for them separately.
Advanced Route Planning and Lane Guidance
The Garmin Nuvi 1490LMT is filled with additional navigation functions due to the advanced route planning capability. This lets you enter up to 10 routes in advance which can then be saved for longer drives such as vacations. When you are driving on highways, the Garmin truly comes into its own because it shows the junctions and lanes that you should be in using graphics that are almost photo like in their appearance. It helps you to ensure you exit at the right point and don't have to do any last minute dangerous lane changes and switches.
Bluetooth Lets You Make Hands Free Phone Calls
There are also some nice little extras included with this GPS. For example you can make hands-free phone calls using the Bluetooth functionality – which lets you connect a smartphone or iPhone straight into the device. As long as your phone is connected to the Garmin, you can receive phone calls as well as make hands-free conversations whilst on the move.