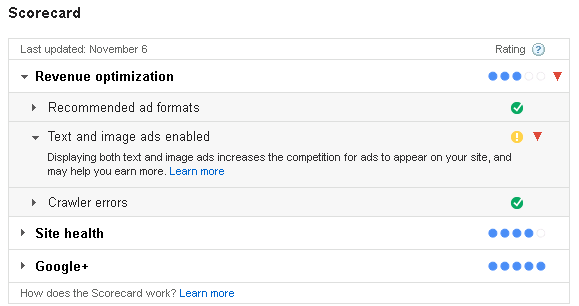 Fix: AdSense Scorecard Revenue Optimization Issue
I don't log into my AdSense account as much as I once did, but recently when I decided to check out my stats I noticed that I had a minor issue with the AdSense scorecard. It was indicating a minor problem with my revenue optimization. The rating for that area dropped from 5 to 3, even though I hadn't done anything with my ads recently.
Upon closer inspection I noticed the following message:

Displaying both text and image ads increases competition for ads to appear on your site, and may help you earn more.

After looking at my current ads I noticed that they were all set to text and image ads. I wasn't sure what the above message was referring to, until I dug a little deeper
Looking Closer at Revenue Optimization
While I'm not entirely sure how much the scorecard values affect my AdSense earnings, I decided to still dig deeper to make sure that I can keep the scorecard ratings as high as possible. If you are like me, your scorecard may include the issue as shown in the image below.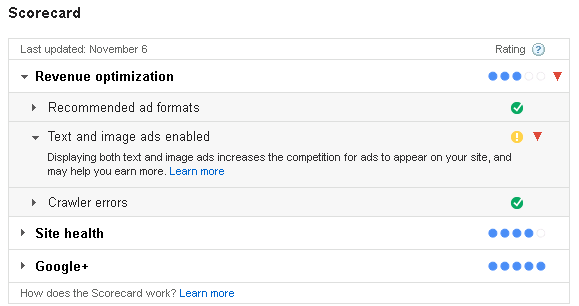 The problem was that all the ads I am using were already set to display text and image ads, so it took a moment to figure out what causes the notice. Then it dawned on my: the AdSense scorecard is reporting on all my AdSense ads.
To solve the issue I used the following steps:
I logged into my AdSense account and click the "My Ads" menu option.
On the right, I clicked the "Advanced Filters" links.
In the "Advanced Filter" box, I checked both the "Idle" and "Hidden" checkboxes. This caused all the ad units I ever created to be displayed.
From the list of ad units, I clicked on the "Summary" column to sort by the ad unit types.
I changed any image- or text-only ad units to "Text/Image" ad unit by clicking the "Edit ad type" link under the ad unit name.
Once I had changed all my ad units to display both text and image, I received the update scorecard as shown in the following image:
As you can see it only took a few days to update the scorecard. As I said before, I am not entirely sure how much the scorecard affects my earnings, but I guess it would be good to keep good ratings.