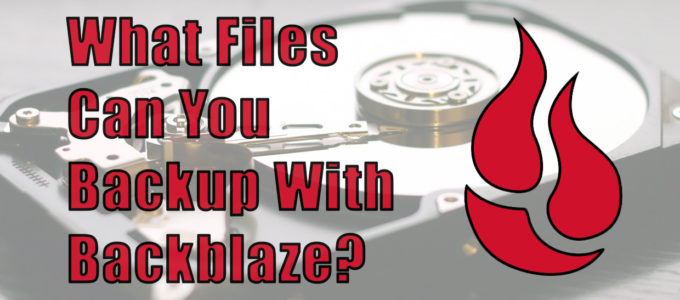 What Files Can You Backup With Backblaze?
After I published my post where I test out the Web download option for restoring my photos from Backblaze, a regular reader of mine had sent me an email asking several questions about Backblaze. One of the questions was about what file types can be backed up with Backblaze.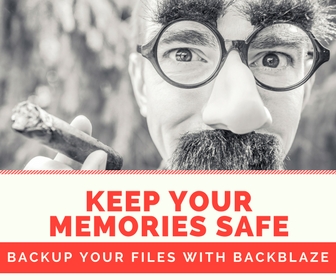 I indicated that so far I haven't had an issue backing up any type of file that I needed to backup. All my files have been backed up without a problems and have been doing so for many years.
At the time I replied to the email I didn't have the number of files or a list of files types I have backed up over the years. It has also been a while since I last looked closely at the number of files and the types of files I have been backing up, so this was a good reminder to do so.
For those that are interested in what can be backed up with Backblaze, then I will provide more clarity into what I have been able to backup.
What files can you backup with Backblaze?
Before going into detail about what file types can be backed up with Backblaze, lets look at how many files I currently have backed up and how much drive space the files use.
As you can see from the image above, I currently have 164,899 files backed up, and altogether they consume 745,199 MB (745 GB) of storage space. This has increased by about 4 GB since the previous post as I have uploaded some new photos.
Over 160,000 files backed up is quite a lot, so explaining what file types I have backed up off the top of my head is not possible. I do have an idea of the file types, but not an exact list.
Luckily, Backblaze does provide a high-level report that lists the type of files that I currently have backed up with them. It isn't specific, but it does group my files into several categories.
The file type report is shown below.
The report Backblaze provides groups the files into several categories, depending on the file extension. It then adds the total size of each category and displays it in the report. I'll explain what I have stored in each category starting from the largest to the smallest.
Photos
As I expected, the largest type of file I have backed up are photos (541 GB), since I am always taking photos. There are different types of photos in this category, including JPEGs, RAW, and TIFF files. My Canon shoots both RAW and JPEGs at the same time, and most of the other JPEGs are those that I have automatically backed up from my Android phone and my wife's iPhone.
This is the most important category of files because these files contain a history of my family, and the files can't be reproduced if they were lost. This is the main reason why they are backed up with Backblaze.
Movies
This category includes files with many different file types. Movie file types are more diverse than photo file types since many different video formats have been used throughout the years. In this category I have older AVI files that were created with a standard-definition camera. Newer files include MOV from Apple devices, MP4 from my Android smartphone, and MTS from my HD camera.
There was a surprise here. When I ripped my Blu-ray discs for my Plex media server, I copied some MKV files into a folder that I originally didn't include with Backblaze. At some point, Backblaze had included that folder and backed up the MKV files. I don't really need those files backed up, but since they have been uploaded I'll leave them for now.
Other
This category is the catch-all category for files that don't fit into any of the other categories. Files in this folder will include data files that aren't documents, spreadsheets, presentations, etc. I am not entirely sure what files are in this category as I do backup several computers to my server, including my wife's Windows 8.1 laptop which could have many files that fall into this category.
Much like the movies category some files that are organized into this category is a result of Backblaze finding a folder with files that needed to be backed up. On my C drive on the server I have Python 2.7 installed. Backblaze automatically selected that folder to backup and now backs up all the Python source files. I don't need that directory backed up, so I will probably go and exclude it in the future, but it does show that if you forget to include a folder, Backblaze may automatically find it and back it up for you.
Music
The bulk of files in this category are the songs my wife has purchased from her iTunes account. Both DRM-protected and non-DRM-protected music files are backed up without any problems. Other music files that are backed up include MP3 and FLAC.
Zip and Archives
This category is self-explanatory – any compressed files types – ZIP, RAR, 7z, etc. are included here. Apparently, I have over 9 GB of compressed files, which is not entirely surprising as I do have backups from past computers that I have zipped up into a single file.
Documents, Presentations and Spreadsheets
I am grouping two categories together since they basically contain anything related to office-type files. This is mainly my wife's data as she is constantly creating documents and presentations. She apparently has quite a number of files on her laptop that I have backed up to the server, and these files go back to her school days several years ago. There are also probably duplicate files as she has upgraded laptops over the years and I have copied her files from one laptop to the newer laptop.
Anyway, any document that can be created by an office application is backed up by Backblaze.
Financial Information
This one is confusing. While I do backup my financial data, I always have it encrypted in a container, which is automatically backed up and is probably counted in the Other category. I am not sure what file(s) are in this category, as I don't have any financial data stored outside of an encrypted container. Files from my wife's laptop have probably been categorized here, or Backblaze determined that one of my encrypted containers contains financial information from the name of the container. Either way, 64 MB of financial data is backed up.
Browser Favourites and Bookmarks
Since I backup my wife's laptop, this includes all of here Web browser favourites and bookmarks. These are important to her, so it is nice that they can be restored if issues occur with her laptop.
What isn't backed up
Pretty much any file type that we need to have backed up can be backed up with Backblaze. With that being said, there are many files that Backblaze won't backup. Backblaze provides a small list of file types that it won't backup by default:
ISO (Disk Images)
DMG (Mac Disk Image)
VMC VHD VMSN (Virtual Drives)
SYS (System Configuration & Drivers)
EXE (Application Files)
For some of the above file types you won't need to worry as they are usually installed by an application and don't need to be backed up. Some files, such as virtual drives, you may want to backup, especially if you have created a virtual machine and don't want to lose the drives associated with that machine.
If you would like to backup the above file types, Backblaze does allow you to remove the exclusions so those files can be backed up.
Backblaze does have a page that outlines what Backblaze does backup.
Files Size Limitation
Is there a limit to the size of file Backblaze can backup? The answer is no.
Backblaze doesn't impose a file size limit when backing up files. If a file is 20 GB in size, the entire 20 GB file will be uploaded by Backblaze to their servers. If you would like Backblaze to prevent large files from being backed up, you can set the file size limit within Backblaze.
By default, the limit is set to "No limits", which means backup all files regardless of size.
Conclusion
I have over 160,000 files backed up with Backblaze, and there are many different file types that I need to have backed up. While there are some file type exclusions within Backblaze, I find that such exclusions haven't prevented any of my data from being uploaded to the Backblaze servers.
If I find that the exclusions do prevent some of my important files from being backed up, I can always remove those exclusions and then Backblaze will continue to backup my files automatically.