Do you own an iPhone but struggle with managing its data? Especially backing it up? Are you planning to shift from an Android to an iPhone but are worried about iPhone storage?
Do you wonder how to improve your iPhone which has all your photos, videos and information?
Well, you don't have to worry anymore. DearMob iPhone Manager is here to solve our problems with its efficient and effective features. As an iPhone owner, there is always something to worry about, especially when a smartphone is almost everything to the owner.
Not only do you need to have a clear storage, there has to be back-up for safety. Moreover, having back-up and clearing out photos cleans and revives a phone also. To top it all off, you need a stable iPhone management software, especially if you are looking for an alternative to widespread iTunes errors.
Hence, to save the day as per our reviews, we have DearMob iPhone Manager. It has the following amazing features to ensure that all your troubles vanish into thin air:
1. Safety always comes first
The app understands and puts your safety first, ensuring no shared information gets leader or his/her used the photo in an unbiased environment. It does have a military level end to end encryption after all, making it safe for use. It provides a guarantee of no data getting deleted or lost as well once you transfer iPhone data.
2. Simplicity at its best
The app is pretty easy to install and use. You can learn it for Mac and Windows making it obviously a good option since it is diverse and highly compatible. It has a very well designed and clear interface, making it easy to use on the go as well.
3. Fast work wins
The app is said to transfer iPhone database of 100 4K photos within a matter of just 8 seconds. Since as an iPhone user, won't you question the speed of any app on your phone. Moreover, it is highly stable especially without any Wi-Fi.
4. As you like it
DearMob iPhone Manager is extremely flexible and works as per your convenience. You can use encryption for exports, manage files, use conversion on files for transfer or be selective while you migrate iPhone data to a new device. You can convert any audio, video or even e-books to be compatible with your iDevice.
DearMob iPhone Manager has a hub of advantages to be useful when need arises to backup iPhone, iPad or any other iDevices, especially in today's world where everything is data driven and a part of the digital age. Take a look at this official video tutorial of DearMobiphone manager for a clear view:
How does DearMob iPhone Manager function and help a user out?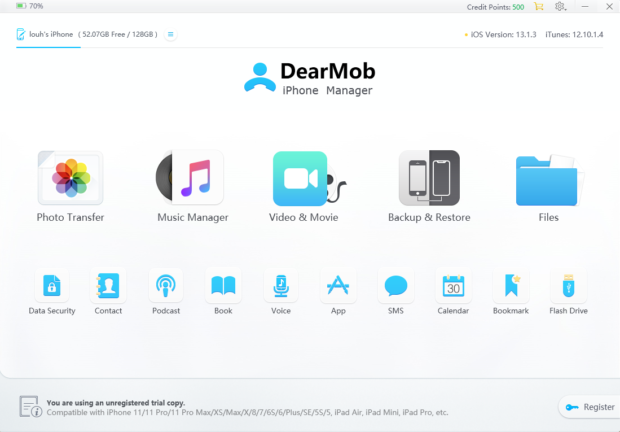 It clearly helps in transferring iPhone data between the device and the computer, which can also be a selective transfer.
Restore all this backed up data on your computer on any other new iDevice as well.
Easy Management of music/playlist, photo/albums and phone contacts.
If needed, you can bulk export files by your selection, in terms of, by day, week, month, year, by artist, album, music list, search, by folder.
During back-up or restoration, import & auto-conversion video, music, e-books to be compatible with iDevice is done and at the same time, you can auto-rotate your video now to fit iOS full screen.
It provides with an option to convert HEIC to JPG, Live photo to a video & still image while Exporting contacts as VCF/PDF/TXT/HTML.
The app helps to remove DRM-laden music, movies, books; and makes your iTunes purchases playable on non-Apple devices.
It allows one to password encrypt photos, videos, contacts, and also the entire iOS backup.
Via this app, you can also use iPhone as USB Flash Drive and create ringtones.
The app comes with everything you need, its extensive, safe and easy. You could compress large videos by 50%, has no back-up limits and safeguards one against errors in iTunes.
At the end of the day, we all want to preserve our memories forever, keep those cool birthday party photos tucked away and never miss out on those daily fun videos you get on social media. DearMob iPhone Manager allows you to be in this zone, backing up your data, easily restoring it and not missing out on anything at all.
In fact, one never knows when their phone will crash or what will happen in the future, so it is always important to come prepared. Transfer iPhone data right with this iPhone file manager.
You can download the app via their website, the free trial is available for both windows and Mac. But trust me, making a payment is worth it, especially when you know your phone and its content is your entire life in one place.