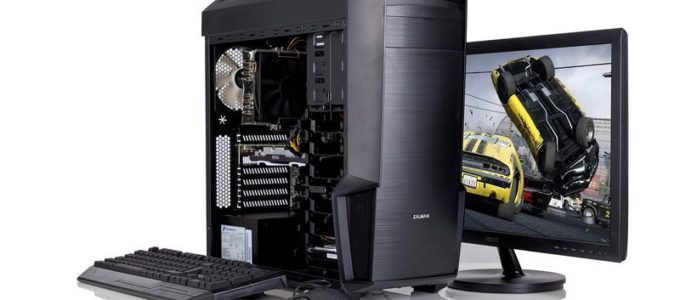 The 5 Best PC's for Gaming
Gaming is one area in desktop PCs that is still as popular as ever, Paint may not have survived but gaming certainly has.
When choosing a gaming PC there's so many things to look out for. There's so many things to look out for; a decent processor, a reliable motherboard, high quality graphic and, a solid cooling system, and that's just internally.
Externally, for immersive gameplay, a large monitor would be the ideal chance, but only if it had a competent contrast ratio. The peripherals also need taking into consideration, whilst the wireless option may seem like the more sensible choice, you may benefit from the wired option.
A decent gaming PC will also allow you to engage with other media such as film and even online games. With the digital age well and truly upon us, online gaming is the norm. Many people now prefer to even gamble online rather than go to the brick and mortar casino. A game such as European roulette is just one of the casino games you'll be able to play with a good PC.
But what are the best PC's for gaming?
5.

The Digital Storm Bolt

3. 4

/

5
This PC has a modest price tag ranging from £1,235-£2227, however it's definitely value for money. The desktop's upgradable slim transparent design is both attractive and practical. The overall performance of the desktop is impressive and its 6th-gen Intel Core i7 processor and powerful graphics make it more than capable of playing even the most demanding of games. And an advanced liquid cooling system will prevent overheating. The only negative is that it's not as compact as the Digital Storm Bolt 2.
4.

Chillblast Fusion Mantis

4.5

/

5
For its affordable price tag of £749 this desktop is inexpensive and doesn't compromise on its performance. The transparent design is similar to the Digital Storm Bolt's, and also built with a liquid cooling system, allowing air flow throughout. The fitted Intel Core i5-4690K Quad Core processor makes it perfect for gaming as it is capable of running at a fast speed. The only downside is you have to supply the monitor and the peripherals, hence the price tag.
3.

Mesh Elite Skylake PCA

4.5

/

5
This desktop comes in at £999. With its matt black finish and blue downlight which illuminates the desk surface from the bottom of the case, the casing of this desktop is a class above the Chillblast. The Intel Core-i5 6600K Skylake processor produces a near perfect performance without pushing the software to its limit.
2.

Maingear Rush

4.5

/

5
Maingear has been described as the Aston Martin of desktops, its alluring design and high-performance machinery make this a more than ideal gaming PC. Intel Core i7 processor is just one of its high end components, and with its cracking run speed and high quality visuals you'll be desperate to show this off to your fellow gamers. You can even choose your own engine coolant colour!
1.

Wired2Fire Diablo Skylake

4.5

/

5
This desktop was so close to scoring a perfect 5/5, but was let down by its lack of features. However, its modern design, a distinctive ridged top panel illuminated in blue makes up for its absence of peripherals. Its Intel Core-i5 6600K processor, and its impeccable graphics card (also used on the Chillblast) makes this the ultimate gaming PC. Whilst this desktop isn't fitted with a liquid cooling system, it's twin fan combo ensures an enhanced cooling system system. Get yours for just £758.