If one thing is true about today's market for television broadcasting, it's that consumers face an overwhelming range of technology and packaged viewing choices. While each type of service provider offers different benefits and associated costs—cable companies and subscription satellite are only the most common solutions—one often-overlooked option is a free-to-air (FTA) satellite system.
FTA satellites function with technology very similar to what is used by major subscription satellite providers, however there is a crucial difference. Whereas subscribing to satellite TV through a dish company entails regular payments in return for a chosen programming package, FTA satellites offer independent, customizable access to a variety of stations made freely available to the public by channels and broadcasters around the world.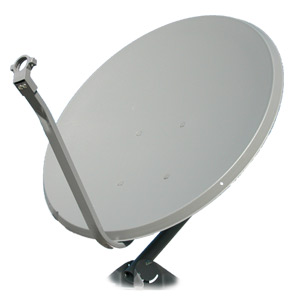 To get an FTA satellite system up and running, only a few components are necessary to begin. First, an FTA receiver is required to pick up the unencrypted signals sent from about 20 total satellites positioned around the earth, enabling access to more than 200 channels worldwide.
Secondly, a satellite dish (31″ is the recommended minimum) is necessary to position in range of a given network or set of satellite networks. Finally, a linear KU band LNB (Low-Noise Block Downconverter) is needed to adjust incoming frequencies for optimal viewing, along with a cable to connect the LNB to the receiver.
---
Considered among dealers and hobbyist to be one of the best constructed 90cm dishes available. GEOSATpro and Azure Shine have formed a partnership to provide high quality satellite dish products at low competitive prices.Patented rolled reflector edges provide the support necessary to maintain a perfect parabola. The LNBF arm is attached to the elevation bracket and strengthened by two support arms creating the strongest tripod LNBF support structure of any consumer dish available. This exclusive design provides an incredibly strong support for even the largest LNBFs. The sturdy adjustable elevation bracket allows for dish aiming angles from 0 - 90 degrees. All hardware is hardened SAE with serrated locking washer nuts. The attractive and durable finish coating of charcoal colored textured poly withstands the elements and will look great for many years!GEOSATpro 90cm exclusive "easy level" universal wall/roof tripod post makes dish mounting a breeze. No more hassles with off center foot plates throwing the mast out of plumb. The unique slotted post attachment to the footer plate allows for 360 degree post leveling, not like other designs which only permit front to back adjustments. No need to carry a level on your install. The included bubble spirit level is placed into the top of the mast for quick verification that the post is plumb and level. Tripod legs can be mounted at any point on the mast, at any angle to assure a solid and secure mounting even in the strongest wind. GEOSATpro hardware is developed to be simply the best!Technical SpecificationsEffective Aperture: 90cm/36inchDiameter: 93.5cmx85cmF/D: .5Offset Angle: 24.62 degreesSurface Accuracy: +/-0.01 deg."Elevation Range: 0-90 degFinish: Textured Poly Powder Coat over Galvanized Steel.Feed Support: Universal 40mm / 23mm ClampFrequency Range: 10.95 - 12.75 GHzGain at 12.5 Ghz: 39.6 dBiAperture Efficiency: 75%Beam Width: -3 dB - 1.8 deg.Wind Loading: Operational 65MPH Survival 125MPH
Depending on the needs and interests of each FTA user, different models of these various components may be better suited to achieve the best results and receive the greatest range of station access. Many providers and products exist to meet these needs, but one very helpful and affordable resource for FTA receivers, dishes, and other equipment is Ocean Satellite.
For those looking to finally wave goodbye to erratic cable bills and unreliable tech service, FTA satellites systems can either be self-installed or set up by experienced professionals for a reasonable, one-time fee. With so many options and packages available to maximize the setup for particular viewing needs, some sources strongly recommend professional installation.
---
Universal Remote (Including FTA boxes)- USB 2.0- Ethernet Port- RGB Component Video Output- RCA Composite Video Output- S-VIDEO Output- SPDIF Dolby Digital 5.1 Surround- DiSEqC Control Versions 1.0, 1.2 and USALS- Auto TP Update- Theme Sort- Channel Search- Channel Auto Tune- PVR Scheduling- USB PVR w/ Time shift- Parental Control- Fast Multi-Satellite Search- Multi-Channel Recall function- SID, Alphabetical and TP sort
Alternatively, for those who are handier with technology, various guides are available and sufficient to provide step-by-step instructions for installation. As with anything, the most important factor in reaching the right choice for an FTA system is making sure to research which products and satellite networks will provide the access to desired broadcasts.
Today's FTA systems are categorized as either stationary, providing access to a regionalized set of signals, or motorized, enabling the dish antenna to rotate among the signal ranges of a viewer's desired network choices. Motorized systems therefore require an additional component known as a Digital Satellite Equipment Control Motor (Diseqc).
For example, while a stationary system installed in the United States may only provide access to satellites within range of its fixed position, a motorized system linking the receiver to the diseqc motor can adjust to pick up quality signals from international stations without any further modification.
For television viewers of varying lifestyles, the prospect of obtaining free satellite TV channels from stations around the world presents an enticing, worthwhile solution. Those living in a foreign country may opt to install an FTA system in place of contracting with a foreign company, thus getting free access to programs based in their own country and language.
For others, watching television may be a leisure activity not worth the cost of a monthly subscription. An FTA satellite system could thus offer a low-cost way to obtain only what a viewer really cares to see. Whatever the case may be, FTA satellites are an underrated but growing solution for many who recognize that many broadcasters provide free programming for those willing to find a legal alternative to subscription-based television.